Jason Highsmith, MD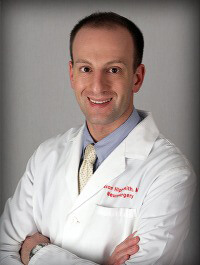 Dr. Highsmith specializes in complex and minimally invasive brain and spine surgery. His practice encompasses the entire field of neurosurgery from brain tumors to pinched spinal nerves. Dr. Highsmith is recognized as an expert in the field of spine surgery. He was recently featured in Becker Spine's 10 Spine Surgeon Investigators of Artificial Discs and 38 Spine Surgeons Focusing on Motion Preservation.
Medical Education
Dr. Highsmith graduated from Cornell University with an Honor's degree in Pre-Med. At the Medical College of Virginia, he attended medical school and completed an internship and residency in Neurosurgery. While in Virginia, he conducted award winning research into the use of artificial blood products to treat spinal cord injury, which was a featured in Popular Science. Dr. Highsmith joined the faculty of Emory University where he completed a fellowship program in complex spine surgery.
Many continuing medical education opportunities have taken him throughout Switzerland and Germany to study the latest techniques. Furthermore, Dr. Highsmith trained with Thierry Marnay, MD—the inventor of the leading total disc replacement device—the DePuy Synthes ProDisc. Humanitarian work took him to Belize where he assisted the only neurosurgeon in the country caring for children with hydrocephalus and spina bifida.
Research
Dr. Highsmith works extensively with numerous medical device companies to design and develop spinal implants to improve patients' lives. He has worked closely with the US Food and Drug Administration (FDA) in studying ground-breaking therapies.
Served as a Principle Investigator for the Medtronic Prestige® ST Cervical Disc System
Currently serves as a Principle Investigator for the Globus Medical Secure®-C Cervical Artificial Disc for the FDA
Actively serves as Principle Investigator of the Acadia® Facet Replacement System Study
One of the first physicians in the United States to be trained on the X-Stop® Interspinous Process Device for the treatment of lumbar stenosis
Peer-to-peer Training
Dr. Highsmith lectures internationally and has served as surgeon faculty for physician courses in endoscopic spine surgery, total disc replacement, neuromodulation, and many minimally invasive spine surgical procedures, including Lateral Lumbar Interbody Fusion (LLIF aka XLIF®) and percutaneous instrumentation. He is the author of several peer-reviewed and published research articles and book chapters on the surgical management of back pain. He regularly hosts visiting surgeons for training and serves as a Continuing Medical Education advisor to his colleagues.
Advocate for Patient Education
In his practice, Dr. Highsmith takes an active role in educating his patients about spinal disorders and treatment options. He authored The Complete Idiot's Guide to Back Pain. Furthermore, he serves as the Medical and Technology advisor to SpineUniverse.com, a well-respected and peer-reviewed web site offering a wealth of spine information. Dr. Highsmith also serves on the SpineUniverse Editorial Board.
To learn more about Jason Highsmith, MD, please visit his practice web site at www.charlestonbrainandspine.com