D. Virgil Alfaro, III, MD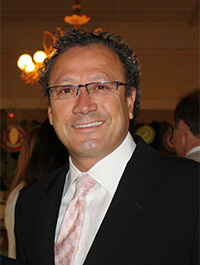 Dr. Alfaro hails from South Texas and is a graduate of the Marine Military Academy and The Citadel, the Military College of South Carolina.
He attended Cornell University Medical College and then performed an internship in General Surgery at UCLA, Harbor General Hospital. Dr. Alfaro was a resident at the Doheny Eye Hospital and the Los Angeles General Hospital and performed a fellowship in vitreoretinal surgery at the Yale University School of Medicine.
Dr. Alfaro served in the United States Air Force Medical Corps, caring for patients at Walter Reed Hospital, Bethesda Naval Hospital, and Andrews AFB Hospital.
During his activity duty tour he was stationed at the Uniformed Services University as a faculty member and led a research laboratory evaluating ocular trauma, HIV/AIDS and the eye, and ocular infections.
Dr. Alfaro was also the Ophthalmologist for the Whitman Walker Clinic, a D.C. clinic dedicated to the treatment of HIV/AIDS.
In 1999 Dr. Alfaro founded Retina Consultants of Charleston, a tertiary practice dedicated to the treatment of retinal, macular, and optic nerve diseases. Dr. Alfaro has edited and published 6 textbooks including Vitreoretinal Surgery of the Injured Eye (1999), Macular Surgery, (2000), Diabetic Retinopathy (2001), Age-Related Macular Degeneration (2002), Macular Surgery 2nd ed (2009), Age Related Macular Degeneration 2nd ed (2015).
Dr. Alfaro has published over 50 book chapters and peer-reviewed articles in the following publications: the Journal of the American Medical Association, the British Journal of Ophthalmology, the American Journal of Ophthalmology, the Archives of Ophthalmology, and others.
He heads up a vigorous clinical trials division that has participated in over 25 important clinical trials for diabetic retinopathy, diabetic macular edema, dry macular degeneration, and wet macular degeneration.
To learn more about D. Virgil Alfaro, III, MD, please visit his practice web site at www.retinacharleston.com