David T. Vroman, MD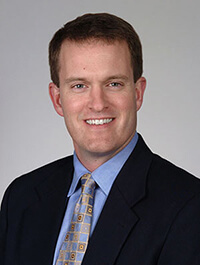 "Our focus is on providing excellent patient care, with the most modern technology available. Delivering the best care and developing relationships with patients is personally and professionally rewarding."
David T. Vroman, MD, is a fellowship-trained cornea, cataract, and refractive surgeon and a founding partner of Carolina Cataract & Laser Center since 2008. He also serves as the statewide medical director for Lifepoint Eye Bank and is Board Certified by the American Academy of Ophthalmology.
After graduating Magna cum laude with Honors at the University of Delaware, Dr. Vroman received his medical doctorate (MD) at the University of Maryland Medical School in Baltimore, Maryland. He completed his internship in the Department of Family Medicine and his residency in ophthalmology at MUSC. His fellowship in refractive surgery and cornea and external diseases was completed at the Bascom Palmer Eye Institute, University of Miami in Miami, Florida. While in medical school, Dr. Vroman was a member of Alpha Omega Alpha, the only Medical School Honor Society, and was President of his Medical School Class.
Dr. Vroman's clinical interests and responsibilities include refractive and cataract surgery, corneal transplantation and external diseases of the eye. He is a member of the American Academy of Ophthalmology, American Society of Cataract and Refractive Surgery, the Cornea Society, Charleston Society of Ophthalmology, Charleston County Medical Association and the South Carolina Medical Association. He earned the Achievement Award from the Academy of Ophthalmology in 2005. He has been voted among the 'Best Doctors in America' every year since 2005, and voted among America's Top Ophthalmologists every year since 2008. Dr. Vroman is consistently invited to give lectures throughout the country and has published dozens of journal articles and book chapters. His research has received Best Paper of Session at national meetings on several occasions. Click here for full CV.
While he has received many academic awards, Dr. Vroman's major focus is on providing excellent patient care. He enjoys building relationships with patients and derives personal and professional satisfaction from helping patients while obtaining the best clinical results possible. Dr. Vroman is certified by the American Board of Ophthalmology and licensed in the state of South Carolina. He is also the director for Lifepoint Eye Bank.
ASCRS Clinical Spotlight features a presentation entitled"Treatment Methods: Epi-Off" presented by David T. Vroman, MD, during the 2014 ASCRS-ASOA Symposium & Congress in Boston, Massachusetts.
To learn more about David T. Vroman, MD, please visit his practice web site at www.carolinacataract.com