Sabino D'Agostino, MD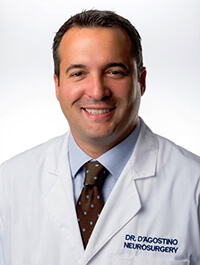 Dr. DAgostino specializes in the treatment of painful spinal conditions such as neck and back pain. These conditions can produce numbness, tingling and even pain in the arms or legs. His affinity for spinal technology allows him to utilize some of the newest and safest therapies available. The goal of every visit is to identify the least invasive therapy that will successfully treat his patients' condition.
Dr. DAgostino grew up in Long Island, NY. He attended college at the Pennsylvania State University and later completed medical school in Philadelphia at PCOM. Dr. DAgostino graduated in the top 5% of his medical school class and scored in the top 4% on his residency entrance exams. Ultimately his journey led him to the Medical University of South Carolina where he completed seven years of training in Neurosurgery. There, his emphasis was on the treatment of spinal disorders via a multitude of different techniques and approaches.
While training at the Medical University of South Carolina, Dr. DAgostino was author and co-author of many publications spanning the entire scope of Neurosurgery. In 2009, he was the recipient of the "Best Neurosurgical Presentation" by the GME awards committee.
Over the course of his training Dr. DAgostino also spent time at the prestigious Carlo Besta Institute in Milan, Italy. There he was able to work with other surgeons and radiologists that specialized in identifying and treating rare and complex disorders of the brain and spine. This institute served as a regional specialty hospital for all of Italy. His fluency of the Italian language and love of the culture made the trip educational and rewarding.
It is no secret that Dr. DAgostino is proud to live in Charleston, where he has maintained a residence for over ten years. He genuinely enjoys meeting each and every one of his patients and sharing in their stories. He takes pride in making sure that his patients understand their diagnosis and all of their treatment options. For this reason, he insists that he meet each patient on every visit without exception.
There is no doubt that most people will find their experience with Dr. DAgostino to be reassuring and educational. His compassionate bedside manner shows in the office, and his surgical abilities are well documented in the many patients he has treated. It is quite clear that Dr. DAgostino always puts the patient first.
To learn more about Sabino D'Agostino, MD, please visit his practice web site at seasidespine.com